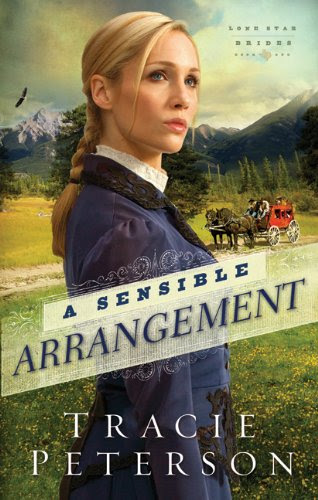 4 Stars!
ABOUT THE BOOK -
What happens when dreams and secrets collide? Find out in book one of Tracie Peterson's new series, Lone Star Brides.

Marty Dandridge Olson is ready to leave behind the pain of the past.

Answering an advertisement for a "Lone Star bride," she leaves her Texas ranch and heads to Denver to marry a man she doesn't know.

Jake Wythe is the man waiting for her.

Burned by love, he marries now simply to satisfy the board of Morgan Bank, which believes a man of his standing in society should be wed. Together Jake and Marty agree they are done with romance and love and will make this nothing more than a marriage of convenience.

When missing money and a collapsing economy threaten his job, Jake's yearning to return to ranching grows ever stronger, much to Marty's dismay. But a fondness has grown between them, as well, further complicating matters.

What will happen when their relationship shifts in unexpected ways?
ABOUT THE AUTHOR -
Tracie Peterson is the award-winning author of more than eighty novels, both historical and contemporary. Her avid research resonates in her stories, as seen in her bestselling Heirs of Montana and Alaskan Quest series. Tracie and her family make their home in Montana.
MY REVIEW -
I am not new to Tracie Peterson's books. I have read several and have liked them all! I love "mail-order bride" books, and this was a good one!
This story has all the fixins - A little romance, a little mystery, a little excitement, and lots of awwwww (reasons to give you goosebumps). And the mystery in this one is a good one - kept me wondering!
There was nice character development. All the characters were very likeable and seemed real to me. I loved the was Tracie captured the awkwardness of the arranged marriage but also having the two "get along" and actually become friends before... (my lips are sealed).
Well being a fan of Tracie's and a fan of Historical fiction - I will definitely be looking for the rest of this series.
Thank you Litfuse for sending me this e-book to read and review!
Welcome to the campaign launch for Tracie Peterson's 100th book!
A Sensible Arrangement
launches Tracie's new Texas-based series, Lone Star Brides, that's sure to please. As a special treat, devoted fans will be able to catch a glimpse of several popular characters from previous series.
Tracie is celebrating by giving away an iPad Mini and hosting a LIVE webcast event on 4/29.
One winner will receive:
An iPad Mini A Sensible Arrangement by Tracie Peterson Enter today by clicking the picture above. Or, go -
HERE
But hurry, the giveaway
ends on April 29th. That's TODAY!!!
Winner will be announced at the A Sensible Arrangement Live Webcast Event on April 29th. Connect with Tracie for an evening of book chat, trivia, laughter, and more!
Tracie will also be taking questions from the audience and giving away books, fun prizes, and gift certificates throughout the evening.