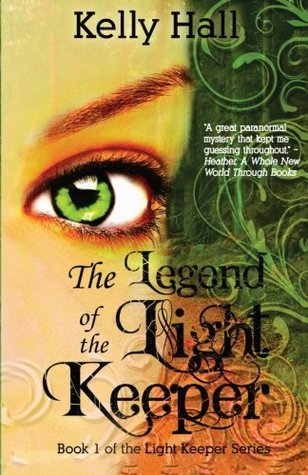 4.5 Stars!
ABOUT THE BOOK -
After a hurricane destroys her home, Lily Jordan is ready for life to get back to normal. That would be easy if her mother's recent engagement hadn't landed her in a house along Southeast Texas' most haunted ghost road.

The secluded scenic road is steeped in rich history and legends, but when Lily is given an old diary on her birthday, will she find that those legends hold more for her future than she's bargained for?

With the help of new friends, Hunter and Owen, and forbidden love, Talon, will she uncover dark secrets from the past and find the key to her own gifts? Is it fate or circumstance that brought her to her new home?
ABOUT THE AUTHOR -
Kelly Hall was born and raised in Southeast Texas, and lives in a small town just a stone's throw from the ghost road where her Light Keeper series is based. When she's not busy writing, or spending time with her husband and two sons, this self-proclaimed creative junkie dabbles in many different forms of art, including cake decorating and mixed media.
MY THOUGHTS -
Awesome! There wasn't much I didn't like about this book. It was fun and hooked me right from the start. I love a good ghost story and this one was definitely a good one!
There was very good character development. I loved both the two main characters Lily and Talon as well as the minor ones, Owen and Hunter. The author did a fantastic job with them. I also really felt like they were teenagers. They acted like teens would act. Some authors get this wrong but this one was spot on.
I loved that there was a touch of historical fiction in there, not enough to turn haters away but just enough for people like me who love it.
There were a few things not explained (or explained well) that I am hoping will be cleared up in the second book, like the shadows that Lily sees.
It was getting a little long and dragged a tad in the middle, but other than than a real great suspenseful read! I am definitely looking forward to the second book. I'm sold!
Thank you "Good Tales Book Tours" for sending me this ebook for my honest review.
Get your copy from Amazon -
HERE