Picture Perfect Love - Melissa McClone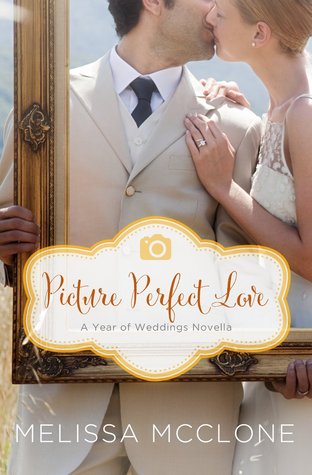 3 Stars
ABOUT THE BOOK -
Meet the people who make it all happen - the planners, the photographers, the musicians who have helped orchestrate the perfect day for countless couples as they find their own happy endings in the second Year of Weddings novella collection. When image becomes everything, it's up to love to refocus the heart.
Photographer Jenna Harrison wants every bride and groom to look picture perfect on their special day, putting her heart into every wedding to give the couple memorable images of their love. But her own heart is still broken, the unworn wedding dress hanging in her closet a reminder that relationships aren't always as perfect as they look through her camera lens. But Jenna has faith that she will find true love. Until then, she must be patient and trust in God's plan and His perfect timing.
Attorney Ashton Vance is the one that got away. When an embarrassing Photoshopped picture of put an end to his political aspirations, he blamed Jenna. So what if the photo led to his being offered a dream job and changing his life for the better? Jenna betrayed his trust, and two years later, Ashton's heart still hasn't recovered.
It was me. His younger sister's three words turn Ashton's world upside down. He must ask Jenna's forgiveness, but can he risk his heart a second time? Even if Jenna can forgive him, dare he hope for a second chance at her love?
ABOUT THE AUTHOR -
Melissa McClone
has always been a fan of fairy tales and "happily ever afters." She holds a degree in mechanical engineering from Stanford University but eventually decided to follow her dream and write full-time. She lives in Washington with her real-life hero husband, two daughters, indoor cats, and a forty-eight-pound Norwegian Elkhound who thinks she's a lap dog. She also loves to ski, rock climb and read.
Visit her online at www.melissamcclone.com.
Twitter: @melissamcclone
Facebook: Melissa McClone
MY THOUGHTS -
Another one that was "just OK" for me. It was not a bad read, there was just nothing that stood out for me.
I did like the characters and felt that they were believable.
The story kind of goes off an another mini plot and I didn't care for that really. Others said it was their favorite part - go figure! I would have rather it just stuck to the main plot, the story was too short for that, and it felt a little slow for me in the middle.
All-in-all not a bad read - I did enjoy it and would certainly try another one by this author.
Thank you "Book look bloggers" for sending me this ebook for my honest review!
Get your copy from Amazon -
HERE