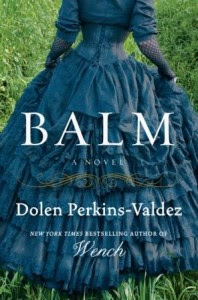 4 Stars!
ABOUT THE BOOK -
The Civil War has ended, and Madge, Sadie, and Hemp have each come to Chicago in search of a new life.

Born with magical hands, Madge has the power to discern others' suffering and ease it, but she cannot heal her own damaged heart. To mend herself and continue to help those in need, she must return to Tennessee to face the women healers who rejected her as a child.

Sadie can commune with the dead, but until she makes peace with her father, she, too, cannot fully engage her gift.

Searching for his missing family, Hemp arrives in this northern city that shimmers with possibility. But redemption cannot be possible until he is reunited with those taken from him.

In the bitter aftermath of a terrible, bloody war, as a divided nation tries to come together once again, Madge, Sadie, and Hemp will be caught up in an unexpected battle for survival in a community desperate to lay the pain of the past to rest.

Beautiful in its historical atmosphere and emotional depth, Balm is a stirring novel of love, loss, hope, and reconciliation set during one of the most critical periods in American history.
The New York Times bestselling author of Wench—called "a fascinating and tragic story" by NPR.org, "deeply moving" by USA Today, and "lyrical and devastatingly beautiful" by People magazine—returns to the Civil War era to explore history's next chapter in this powerful story of love and healing.
ABOUT THE AUTHOR -
Dolen Perkins-Valdez is the author of the New York Times bestselling novel Wench. Her fiction has appeared in the Kenyon Review, Story Quarterly, StorySouth, and elsewhere. In 2011 she was a finalist for two NAACP Image Awards and the Hurston-Wright Legacy Award for fiction. She was also awarded the First Novelist Award by the Black Caucus of the American Library Association. She teaches in the Stonecoast MFA program in Maine. A graduate of Harvard and a former University of California President's Postdoctoral Fellow at UCLA, Dolen Perkins-Valdez lives in Washington, D.C., with her family.

MY THOUGHTS -
I love books that follow what happened after the war. This book was very interesting in parts but pretty slow in parts too, if it wasn't for that I would have given it 5 stars. But it did stay just good enough to keep me happy.

I love ghost stories so the fact that one of the main characters was channeling a civil war ghost was the highlight of the book for me. I also loved that the other main character was a healer. Those two things and the fact that this was a historical fiction was what made this a great read for me.
The Civil war brought together three totally different people and the author did a great job of blending their lives and personalities together. Great character development and great descriptions!

This is my first one by Dolen Perkins-Valdez (I have not read Wench), she is a very good writer and, yes, I would read another one by her! This does make me want to go back and read Wench.
Thank you TLC Book Tours for sending me this book for my honest review!
Get your copy from Amazon -
HERE