Penny Dreadful - Cynthia Lee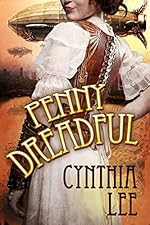 3 Stars
ABOUT THE BOOK -
It is the 19th century. At the Glass Town Establishment for Girls, imaginations starve. The charity school's benefactor, an inventor of steam-powered machines, does not believe in imagination. He believes that the young girls of the world should never imagine a future full of choices. But Belle Fortune loves to tell stories. She begins to invent them for her friends at the school, stories about a fierce heroine named Penny Dreadful who must face many monsters.

There are worse monsters in Glass Town than the ones Belle can dream up.

You see, there is a place in Glass Town, a ruinous house that squats on its own island. No one is ever seen entering or leaving, some have reported things flying from its roof, others hear the groan and throb of machinery. What does the House on the Island have in store for Belle? How can she free herself and her friends from the clutches of Mr. Glass? She will have only Penny Dreadful to guide her.
ABOUT THE AUTHOR -
Cynthia Lee lives in Alabama with a husband, a son and a very old cat. She tries to write every day and sometimes succeeds. After a lifelong love affair with thoughtful fantasy stories for young people (and not so young people), she decided to write some stories of her own.
MY THOUGHTS -
This started out as a Cinderella story then switched to Little Orphan Annie in a way. While I didn't love this book I certainly didn't hate it either.

The Good - Very unique, quirky, creative and fun.
The Bad - It was only 264 pages it seemed much longer to me and some parts were real slow. And it is labeled Steampunk but didn't seem Steampunk to me at all (But that's not really a negative).
The Better - The characters - There were some great characters - Belle and Astrid - Loved them. But it was Will who stole my heart. Very seldom is a male character my favorite. He was one of those kind and unexpected heroes.
All-in-all this was a cute, different, fun story with a great ending! I think if it had ended differently I wouldn't have liked it as much. So the ending made the story for me!
Thank to Cynthia Lee for sending me a copy of her book for my honest review!
Order your copy from Amazon -

HERE