The Bookshop on the Corner - Jenny Colgan
ABOUT THE BOOK -
Nina Redmond is a literary matchmaker. Pairing a reader with that perfect book is her passion… and also her job. Or at least it was. Until yesterday, she was a librarian in the hectic city. But now the job she loved is no more.

Determined to make a new life for herself, Nina moves to a sleepy village many miles away. There she buys a van and transforms it into a bookmobile—a mobile bookshop that she drives from neighborhood to neighborhood, changing one life after another with the power of storytelling.

From helping her grumpy landlord deliver a lamb, to sharing picnics with a charming train conductor who serenades her with poetry, Nina discovers there's plenty of adventure, magic, and soul in a place that's beginning to feel like home… a place where she just might be able to write her own happy ending.
*** This is also out under a different name - The Little Shop of Happily Ever After, so don't be confused.
ABOUT THE AUTHOR -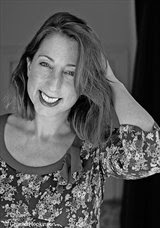 Jenny Colgan is the New York Times bestselling author of numerous novels, including Little Beach Street Bakery, Christmas at Rosie Hopkins' Sweetshop, and Christmas at the Cupcake Café, all international bestsellers. Jenny is married with three children and lives in London and Scotland.
MY THOUGHTS -
Favorite book of the year so far!!!
Oh I just loved this book. It was absolutely adorable. I have been wanting to read something by this author and now I am so sorry I waited so long.
I wanted to take a day off work and just sit and read all day! This story warmed my heart, right to the core - then broke it, and then warmed it again. There were so many awww moments and plenty of chances for tears, but then I would be in a fit of giggles. At one point in the story my heart was pounding, I had tears in my eyes and had goosebumps!
"Nina, I have tried to be patient. I have tried to help when things go wrong and you buy a book and things go well and you buy a book and it rains so you bring home some books and it's sunny so you get some books. But..."
Excellent character development! I just adored Nina! Loved everything about her. She reminded me of Anne Hathaway in The Devil Wears Prada before the make-over. My problem was that I loved both "leading men" equally as much. I loved Marek and Lennox and didn't really care which one she ended up with as long as she did end up with one of them! I am happy that she made the choice she did, it was perfect. I loved the ending.
"The problem with good things that happen is that very often they disguise themselves as awful things. It would be lovely, wouldn't it, whenever you're going through something difficult, if someone could just tap you on the shoulder and say "Don't worry, it's completely worth it. It seems like horrible crap now, but I promise it will all come good in the end."
The whole idea of having a mobile bookstore was fantastic! I really truly wish I had one, it makes me want to go out and start one. I also loved that this took place in Scotland. I don't think I have read too many books that took place in Scotland.
"Just do something. You might make a mistake, then you can fix it. But if you do nothing, you can't fix anything. And your life might turn out to be full of regrets."
This book was a true a happily-ever-after fairy-tale! It was sweet, fun, romantic to the point of goosebumps, and kind of sexy! But not graphic - thank you!
I loved Jenny's writing style and I will add all her other books to my wish list!
Thank you
HarperCollins and TLC Book Tours
for this wonderful book in exchange for an honest review!
Order your copy today!