4 Stars
ABOUT THE BOOK -
For millennia, essential oils have played a key role in health and beauty rituals. From references in the Bible (frankincense and myrrh) to Hippocrates (who documented the effects of oils from over 300 plants) to Ancient Egypt (Cleopatra pioneered the use of fragrance), essential oils have been revered throughout human history for their healing powers and their unparalleled scent.
But in modern times, they've often been misunderstood, underappreciated, even cast as "dangerous"—and relegated to the dusty shelves of health food stores. That is, until recently. Today they're back in the spotlight as increasing numbers of consumers are looking for all-natural alternatives to skincare products and opting for fragrance-free detergents and soaps, natural remedies for common ailments, and toxin-free home cleaning solutions.
Enter Adina Grigore, owner and founder of the wildly popular all-natural skincare line SW Basics. A former essential oil skeptic, Grigore learned everything she could about these potent plant-based compounds when she began formulating her products. And what she learned was that essential oils are some of the most powerful, healing, health-promoting compounds found in nature. That, and they smell pretty great too.
In Just the Essentials, Grigore offers a 21st-century guide to these ancient oils, offering a fresh, fun, and authoritative overview of what they are and how they can be easily incorporated into anyone's life. From plant-based medicine to all-natural skincare to safer and cleaner household products to aromatherapy, this handy and entertaining guide provides detailed advice for a wide array of oils, safety guidelines, and a range of do-it-yourself recipes to get started.
With lists of the best oils for beginners; instructions for diffusing and safe handling; and DIY recipes from dish soap to toothpaste to facial masks, Just the Essentials makes it easy and enjoyable to reap the many benefits of these pure plant extracts.
ABOUT THE AUTHOR -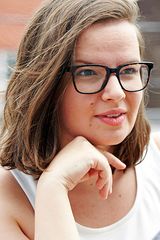 Adina Grigore is the founder and CEO of the all-natural, sustainable skin-care line S.W. Basics, which she started out of her kitchen in 2011. A graduate of the Institute for Integrative Nutrition, Adina has worked in the wellness industry since 2007 as a private holistic nutritionist, a personal trainer, and a workshop coordinator teaching people about the DIY nature of wellness. S.W. Basics products are now sold internationally and have been featured in Vogue, O Magazine, W Magazine, the New York Times, InStyle, Real Simple, and Martha Stewart Living, among others.
Follow Adina on
Instagram.
MY THOUGHTS -
I would say this is a good basic beginners book for the use of Essential oils. There are some good ideas and some good recipes for homemade products - skincare, haircare even household cleaning products. There is also some good basic information on what oils are good for what and how to use them. I like that the author does warn you about different brands and that they are not all made the same. Most of them are not for internal human consumption.
My only problem with this book is that I am a very experienced oil user and the brand I use "Young Living Oils" these are "therapeutic grade" oils which
are
OK for internal use (most of them, depending on the individual oil, there are some that are not OK to take internally) most of these oils are for medicinal use, not just cleaning, aroma therapy, and skin care. There were a few points in this book that I argued with or disagreed with, or thought "yeah but...".
Like I said this was a good beginner book. But there is soooo much more to oils than this. I would say just keep an open mind and do your own research, and find an oil that is good for you, for what you want to use it for. I would rather people read this book and find out how wonderful Essential oils can be and not be leery to use them, but then, don't stop there. Do your homework, some research to find out more. Use this book as just a stepping stone into a large world of Essential oil use!
I voluntarily posted this review after receiving a copy of this book from TLC Book Tours
- Thank You!
Purchase Links