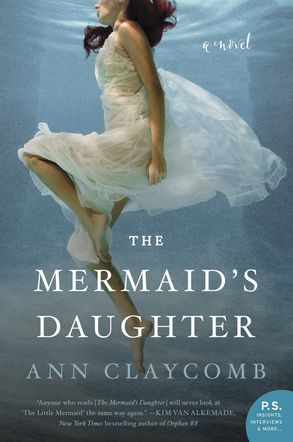 ABOUT THE BOOK -
A modern-day expansion of Hans Christian Andersen's The Little Mermaid, this unforgettable debut novel weaves a spellbinding tale of magic and the power of love as a descendant of the original mermaid fights the terrible price of saving herself from a curse that has affected generations of women in her family.

Kathleen has always been dramatic. She suffers from the bizarre malady of experiencing stabbing pain in her feet. On her sixteenth birthday, she woke screaming from the sensation that her tongue had been cut out. No doctor can find a medical explanation for her pain, and even the most powerful drugs have proven useless. Only the touch of seawater can ease her pain, and just temporarily at that.

Now Kathleen is a twenty-five-year-old opera student in Boston and shows immense promise as a soprano. Her girlfriend Harry, a mezzo in the same program, worries endlessly about Kathleen's phantom pain and obsession with the sea. Kathleen's mother and grandmother both committed suicide as young women, and Harry worries they suffered from the same symptoms. When Kathleen suffers yet another dangerous breakdown, Harry convinces Kathleen to visit her hometown in Ireland to learn more about her family history.

In Ireland, they discover that the mystery—and the tragedy—of Kathleen's family history is far older and stranger than they could have imagined. Kathleen's fate seems sealed, and the only way out is a terrible choice between a mermaid's two sirens—the sea, and her lover. But both choices mean death…

Haunting and lyrical, The Mermaid's Daughter asks—how far we will go for those we love? And can the transformative power of music overcome a magic that has prevailed for generations?
ABOUT THE AUTHOR -
Ann Claycomb's fiction has been published in American Short Fiction, Zahir, Fiction Weekly, Brevity, Hot Metal Bridge, The Evansville Review, Title Goes Here, and other publications. She has twice been nominated for a Pushcart Prize and has an MFA in fiction from West Virginia University.
MY THOUGHTS -
Now
THIS
was an amazing story! Wow, right from beginning to end - I loved this book! This was a Mermaid book through and through. I loved how it was a take off of the original "Little Mermaid" I have never read the orig. and now I want to. I also loved how the author used the opera, the writing of and production of an opera. This was very new for me. I am not familiar with opera at all. But I loved this part of it. It made it very interesting.
This was definitely magical but also really sad at times! Well... and happy! I guess I would say it was melancholy but beautiful. It's kind of like one of those situations where the best choice is not always the happy one for everybody. I am glad the story ended this way - it really was the best ending! But I was in tears - for sadness and also for joy!
I loved the characters! Absolutely loved Kathleen and Harry! I thought they were wonderful together! What a beautiful love story! There a few parts of the story that made me gasp out loud and a few more that brought me to tears. I don't want to give too much of the story away, so I can't really say much more.
I went to my daughter's house for a few days mid book. I ended up finishing the rest of it in one day! And this is a long book - coming in at 448 pages, but I wouldn't have wanted it any shorter! In fact I could have easily read another 100 pages! It was that good. The writing was excellent, the character development was excellent, and the story-line was - perfect! This will be one of my favorite stories of the year!
I voluntarily posted this review after receiving a copy of this book from TLC Book Tours
- Thank You!
Purchase Links