Vibrant India: Fresh Vegetarian Recipes from Bangalore to Brooklyn - by Chitra Agrawal
4 Stars
ABOUT THE BOOK -
Lifelong vegetarian and chef Chitra Agrawal takes you on an epicurean journey to her mother's hometown of Bangalore and back to Brooklyn, where she adapts her family's South Indian recipes for home cooks. This particular style of Indian home cooking, often called the "yoga diet," is light and fresh, yet satisfying and rich in bold and complex flavors. Grains, legumes, fresh produce, coconut, and yogurt—along with herbs, citrus, chiles, and spices—form the cornerstone of this delectable cuisine, rooted in vegetarian customs and honed over centuries for optimum taste and nutrition.

From the classic savory crepe dosa, filled with lemony turmeric potatoes and cilantro coconut chutney, to new creations like coconut polenta topped with spring vegetables 'upma" and homemade yogurt, the recipes in Vibrant India are simple to prepare and a true celebration of color and flavor on a plate. Chitra weaves together the historical context behind the region's cuisine and how she brought some of these age-old traditions to life thousands of miles away in Brooklyn during the city's exciting food renaissance.
Relying on her experience as a culinary instructor, Chitra introduces the essential Indian cooking techniques, tips, and ingredients you'll need to prepare a full range of recipes from quick vegetable stir frys (corn, basil, and leeks flavored with butter, cumin, and black pepper), salads (citrus red cabbage and fennel slaw with black mustard seeds, curry leaves, and chile), yogurt raitas (shredded beets and coconut in yogurt), and chutneys and pickles (preserved Meyer lemon in chile brine) to hearty stews (aromatic black eyed peas, lentils, and greens), coconut curries (summer squash in an herby coconut yogurt sauce), and fragrant rice dishes (lime dill rice with pistachios). Rounding out the book is an array of addictive snacks (popcorn topped with curry leaf butter), creative desserts (banana, coconut, and cardamom ice cream), and refreshing drinks (chile watermelon juice with mint). Chitra provides numerous substitutions to accommodate produce seasonality, ingredient availability, and personal tastes. The majority of recipes are gluten-free and vegan or can be easily modified to adhere to those dietary restrictions.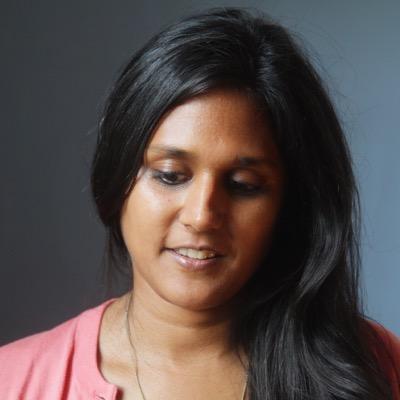 ABOUT THE AUTHOR -
Chitra Agrawal is the author of Vibrant India: Fresh Vegetarian Recipes from Bangalore to Brooklyn and the founder of Brooklyn Delhi, an award-winning Indian condiments line. Since 2009, she has been serving, writing about, and teaching her family's vegetarian recipes from India with a slant on seasonality and local ingredients. Chitra writes the popular recipe blog The ABCDs of Cooking, teaches vegetarian Indian cooking classes at Brooklyn Kitchen, Brooklyn Brainery, and Whole Foods, and hosts pop-up dinners throughout New York City with creative Indian-inspired menus. Her work has been featured in The New York Times, Food & Wine, Saveur, and Zagat, among others. She lives in Brooklyn, NY.
MY THOUGHTS -
This is a very nice cookbook with beautiful pictures. There is not a picture for every recipe but there are quite a few. I am a vegetarian and I do love Indian food. I was excited at the thought of this book, but when I started going through it and flagging all the recipes I wanted to make (as I always do when I am reviewing a cook book) there were only 3 - 4 that I had flagged. Most of this is just stuff that I would never make and a lot of the ingredients I do not have in my kitchen. I would have to specifically look for them. I guess I am better off just having my Indian food in a restaurant instead of making it myself! Still a really nice book though!
I voluntarily posted this review after receiving a copy of this book from
Blogging for Books
- Thank You!
Order your copy from Amazon -

HERE