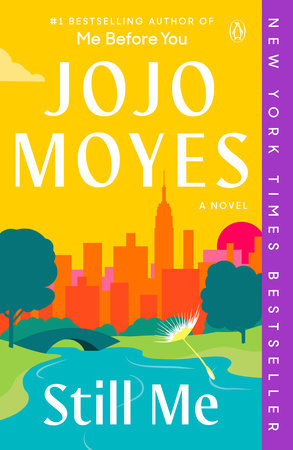 ABOUT THE BOOK -
Louisa Clark arrives in New York ready to start a new life, confident that she can embrace this new adventure and keep her relationship with Ambulance Sam alive across several thousand miles. She steps into the world of the superrich, working for Leonard Gopnik and his much younger second wife, Agnes. Lou is determined to get the most out of the experience and throws herself into her new job and New York life.

As she begins to mix in New York high society, Lou meets Joshua Ryan, a man who brings with him a whisper of her past. Before long, Lou finds herself torn between Fifth Avenue where she works and the treasure-filled vintage clothing store where she actually feels at home. And when matters come to a head, she has to ask herself: Who is Louisa Clark? And how do you find the courage to follow your heart—wherever that may lead?
STILL ME is Jojo Moyes' quirky, touching, and empathetic writing voice at its best, reminding readers why they fell in love with Me Before You.
ABOUT THE AUTHOR -
Jojo Moyes
is the #1 New York Times bestselling author of After You, Me Before You, Paris for One and Other Stories, The Horse Dancer, One Plus One, The Girl You Left Behind, The Last Letter from Your Lover, Silver Bay, and The Ship of Brides. She lives with her husband and three children in Essex, England.
My first book by this author! Its about time right? Yep, I loved it. This is book 3 in the series and I did not read the first two (although now I would like to) and I had no problem following the story.
This is a great easy flowing story with wonderful, sweet, fun characters! I loved Lou, Agnes, Josh and Sam, but Margot - she was a hoot!. All the relationships developed and flow nicely and seemed realistic.
I loved that this took place in NYC. I'm from upstate NY myself and have been to the city several times. I love reading books that take place in the city - fun!
The ending... Ahhhhh :-) Sweet!
I am looking forward to reading more by this author for sure!
I voluntarily posted this review after receiving a copy of this book from
Viking/Penguin

/Random House
- Thank You!!
Order your copy from Amazon -

HERE