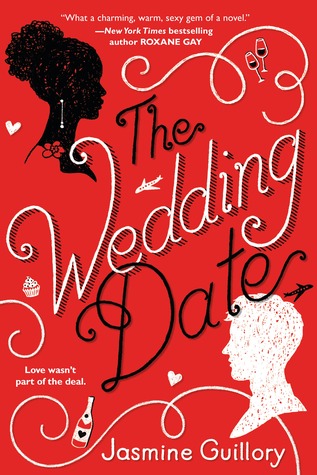 4 Stars!
ABOUT THE BOOK -
Agreeing to go to a wedding with a guy she gets stuck with in an elevator is something Alexa Monroe wouldn't normally do. But there's something about Drew Nichols that's too hard to resist.

On the eve of his ex's wedding festivities, Drew is minus a plus one. Until a power outage strands him with the perfect candidate for a fake girlfriend...

After Alexa and Drew have more fun than they ever thought possible, Drew has to fly back to Los Angeles and his job as a pediatric surgeon, and Alexa heads home to Berkeley, where she's the mayor's chief of staff. Too bad they can't stop thinking about the other...

They're just two high-powered professionals on a collision course toward the long distance dating disaster of the century--or closing the gap between what they think they need and what they truly want...
ABOUT THE AUTHOR -
Jasmine Guillory is a graduate of Wellesley College and Stanford Law School. She is a Bay Area native who has towering stacks of books in her living room, a cake recipe for every occasion, and upwards of 50 lipsticks.
MY THOUGHTS -
All-in-all a good read but I do have mixed feelings about this one. It started out very strong. I loved the beginning. Unfortunately I think the book climaxed for me after the first 1/4. The middle half got real slow and I felt it drag and
became
uninterested. Luckily I kept reading though because it did pick back up the last 1/4. So first 1/4 - 5 stars, middle - 3 stars, last 1/4 - 4 stars. So I rounded it off to a 4.
I know this sounds very technical but that's how it was for me.
I liked the characters - Alexa was sweet but a little too wishy washy for me, but I still thought she was adorable and would probably have liked her in real life. Drew - I really liked in the book. He had his faults but he knew them and admitted to them and did want to change, stubbornly, but still. On the other hand, I don't think I would have liked him in real life.
The things that I did love about this story - There was a lot more than just romance going on. Alexa had the troubled teen project and the rif between her sister and her. Drew had the hospital and his patients. This made the story a lot more interesting. I also loved that the POV took turns between Alexa and Drew. You know that this is a favorite of mine. I think if we had not seen it from Drew's POV I probably would have hated him. And last - there was a LOT of sex going on but none of it graphic - thank you! I always say I don't mind the romance or sex I just don't need to read every graphic detail. It made it more romantic this way.
Also... Great ending!
For an author's debut novel I thought this was a pretty good one! I think I would read more from her.
I voluntarily posted this review after receiving a copy of this book from Berkley Romance - Thank You!!
Order your copy from Amazon -

HERE