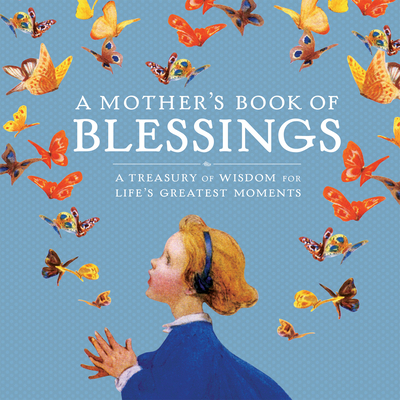 5 Stars!
ABOUT THE BOOK -
Curated especially for mothers, this beautifully illustrated keepsake contains more than 100 blessings from around the world to celebrate life's special moments and encourage reflection for the whole family.

With ageless wisdom for every occasion, this elegant little book is the perfect gift for mothers looking for a little dose of enlightenment. Illustrated with exquisite vintage art, it's filled with time-honored proverbs, enriching parables, uplifting quotes, and inspiring poetry that encourage readers to contemplate and celebrate life's milestones. These illuminating words and their invaluable lessons, drawn from cultures around the world, will resonate with families from all walks of life. Whether commemorating the birth of a new baby, celebrating a graduation, a birthday, a housewarming or a special holiday, this timeless treasury provides guidance and encouragement for everyone: an enduring keepsake readers will turn to again and again.
ABOUT THE EDITORS-
LENA TABORI
is the founder of Welcome Enterprises, Inc, which specializes in illustrated books. Formerly publisher at Stewart, Tabori, & Chang, she is the author of The Little Big Book series, which has a total of 27 titles in print. Tabori lives in East Hampton and New York.
NATASHA TABORI FRIED
is the managing editor of Welcome Enterprises, Inc. In addition to overseeing the company's publishing program, she has conceived, edited, and produced numerous books include Baseball: The National Pasttime in Art and Literature, A Bride's Book, and Hidden Napa Valley.
MY THOUGHTS -
This is such a beautiful book! A good size, chunky, hard cover book. There are 352 pages of wonderful heartfelt sayings and beautiful pictures!
You could use this in so many ways. You could read one a day every other day for almost a year. You could put this on display in your living room for others to enjoy. And you could use these quotes in cards and notes. Whatever you choose to do with it - it is a beautiful book.
Here are a couple of my favorite pictures and a favorite saying -
With Mother's Day coming up - this would make a great gift! Give it to your mother or grandmother or someone who is a new mother. Or if you are a mom, buy it for yourself to read to your children.
I voluntarily posted this review after receiving a copy of this book from
TLC Book Tours
- Thank You!!
Order your copy from Amazon -

HERE