The Immortal Gene - Jonas Saul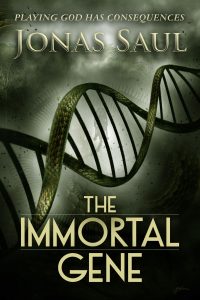 5 STARS!
ABOUT THE BOOK -
Jake Wood has it made. He is a tough homicide detective with a partner who's like a brother, and he's about to marry the girl of his dreams. Then Jake learns a close friend is missing and travels to South America in search of him. After a freak accident in the Amazon Rainforest, Jake wakes up in the hospital—eighteen months later. Long presumed dead, he discovers his fiancée is married and pregnant, his house was sold, his job is gone, and his partner transferred to another city to become lead detective on a serial killer case. Jake buys a cabin in the woods and tries to leave the world behind, until his home is broken into and he discovers he was targeted—but why? When Jake's former partner requests his aid in catching the Blood Eagle Killer, he offers to help find whoever is behind Jake's recent trouble. This leads to Fortech Industries, a pharmaceutical company secretly researching a way to create an immortal gene. Now they intend to destroy their only error—Jake Wood—who has become something more than human.

Purchase Link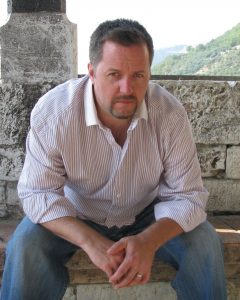 ABOUT THE AUTHOR -
Jonas Saul has sold over 2 million books. On multiple occasions, he has outranked Stephen King and Dean Koontz on the Amazon Most Popular Top 100 Authors list. He has traveled extensively throughout the world to scout settings for his thrillers, spending several years between Greece, Italy, Denmark, and Hungary. Jonas is regularly invited to speak at national writing conferences, teaches writing classes, and offers editorial services.
Find out more about Jonas at his
website
, and connect with him on
Facebook, Twitter,
and
Instagram
.
MY THOUGHTS -
This was some intense suspense (with a little bit of Sci-fi thrown in there)! I am not a huge Sci-fi fan but this was just the right amount for me. The author made this story very personal. He put you into the heads of the characters and made you feel for them.
There were a couple of different things going on. Both of them very intense! At first I was wondering if one of them was just a little side story to make things interesting or if the two were going to connect somehow.
The character development was great! I really did like Jake. He wasn't one of those lovable characters with a huge heart or anything but he did get to me. His partner was on the strange side but I like him as well.
The serial killer case was creepy, graphic and original! Yikes, this guy was nutso! And then the other plot - "Jake's recent trouble" Ha! to say the least. Well that was a fun trip to the Amazon.
The end - come on! I want to know more! Is there going to be a second book? I didn't think so. but... a little bit of a cliff hanger.
Definitely a worth while read! Loved it - super creepy, super fun! My first book by this author but it left me searching his books to find more. Author's not a bad looking guy either ;-)