Whippoorwill - R L Bartram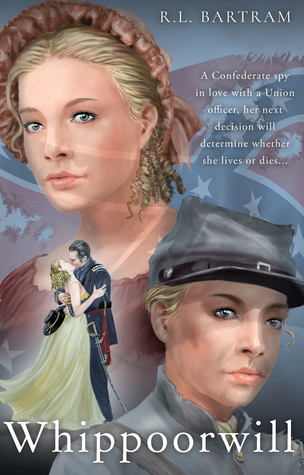 5 STARS!!
ABOUT THE BOOK -
Barely fourteen, Ceci Prejean is a tomboy running wild in the hot Louisiana summer. After breaking the nose of a local boy, her father decides to enlist the aid of Hecubah, a beautiful Creole woman, with a secret past, who takes Ceci in hand and turns her into a lady.

Now, eighteen-year-old Ceci meets and falls passionately in love with a handsome young northerner, Trent Sinclaire. Trent is a cadet at the West Point military academy. He acts as if he knows Ceci. They begin a torrid affair, even as the southern states begin to secede from the Union.

Only weeks before their wedding, the Confederate army attacks Fort Sumter and the civil war begins. Trent is called to active service in the north, leaving Ceci heartbroken in the south.

Swearing vengeance on the union, after the untimely death of her family at the fall of New Orleans, Ceci meets with infamous spy master, Henry Doucet. He initiates her into the shadowy world of espionage.

After her failure to avert the catastrophe at Gettysburg, Ceci infiltrates the White House. There, she comes face to face with Abraham Lincoln, a man she's sworn to kill. Forming a reckless alliance with the actor, John Wilkes Booth, she is drawn deeper into the plot to assassinate the President of the United States. A Confederate spy in love with a Union officer, her next decision will determine whether she lives or dies...
ABOUT THE AUTHOR -
With Historical Romance as his preferred genre, Robert has continued to write for several years. Many of his short stories have appeared in various national periodicals and magazines.
His debut novel "Dance the Moon Down", a story of love against adversity during the First World War, gained him considerable critical praise, being voted book of the month by "Wall to Wall books"
His second novel "Whippoorwill" tells of a passionate affair between a young southern woman and a northern man at the beginning of the American Civil War.
He is single and lives and works in Hertfordshire.
MY THOUGHTS -
This was a fantastic story of the Civil war through the eyes of a young southern girl. We get to see that young girl grow up to quite a woman! A very well written, fascinating read!
For me - this starts out like Gone with the Wind. It is very much about a young, naive, spoiled, southern girl who falls in love with a boy who goes into the war for ... The North! Gasp!!
But there is another half to this story. And this one I will call - the Mulan part. If you don't know the story of Mulan (watch the Disney movie - its great!) it is about a girl who dresses up as a man so she can enter the war (because women were not allowed). This is the exciting, edge-of-your-seat part of the story.
I love that this book has those two parts to it. I would have been happy with either one, but to have them both was quite a reading treat! Before reading this book I honestly had no idea that this kind of thing happened - women dressed up as men as spies! That is something I would not have been able to do for sure!
Excellent character development. I loved Ceci and especially Hecubah. They were quite the pair :-)
What a great job the author did showing us how Ceci matured into a young woman and how her personality changed and strengthened (and even hardened). Oh I just felt so bad for her at times, I did tear up a couple times.
A lot of twists - I even gasped in a couple spots, Ceci is quite entertaining LOL, and it is even a little sad in spots. But the whole book is so very interesting, full of historical facts, and fun to read.
If you are into historical fiction, American history, or the Civil War, you would love this book!
And don't you just love that cover!!! This might be one of my favorite covers of the year!
Be sure to check out my review for Roberts previous book.
Dance The Moon Down (also 5 Stars from me)
-
HERE
I voluntarily posted this review after receiving a copy of this book from
The author
- Thank You!
Order your copy from Amazon - HERE