Stitches and Witches (Vampire Knitting Club #2) by Nancy Warren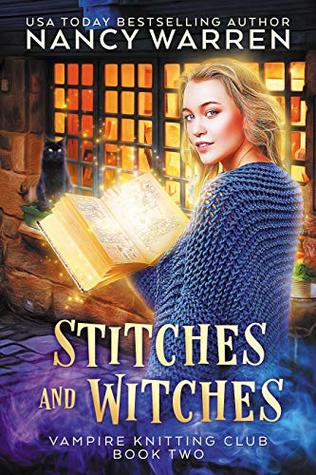 4.5 STARS!
ABOUT THE BOOK -
When an older gentleman keels over in his scones and tea at the Elderflower Tea Shop in Oxford—a victim of poison—Lucy Swift and her band of undead amateur detectives are on the case.

Elderflower Tea Shop is next door to Cardinal Woolsey's, the yarn shop Lucy runs and home to the late-night Vampire Knitting Club. The tea shop owners are a pair of octogenarian spinsters and old family friends, so Lucy wants to help clear up the mystery that's keeping their shop closed. But murder isn't the only issue troubling the Miss Watts. A man has come between them. Miss Florence Watt is being romanced by an old flame, one Mary Watt distrusts.

In between figuring out who, among his many enemies, might have poisoned the unpleasant Colonel Montague, Lucy's trying to brush up on her magic spells before the Wiccan potluck dinner her witchy cousin insists she attend.

However, she's still settling into being a witch and since she botched a spell and blew up her kitchen, she's taking the magic slowly.

Her knitting endeavors aren't much better. Between purling when she should knit and dropping so many stitches her hand-knit scarf looks like it was attacked by giant moths, there are days Lucy thinks she'll pack it all in and move back to Boston. She might, except she'd miss her beloved undead grandmother, her new friends, one very sexy vampire and a local detective who is very much alive.

Stitches and Witches is Book 2 in the Vampire Knitting Club series of paranormal cozy mysteries. It is a standalone novel with no sex or gore, just humor, knitting, magic and a touch of romance.
Nancy's a USA today bestselling author of more than 60 novels. Nancy's originally from Vancouver, Canada but she tends to wander. She currently lives in an 18th century house in Bath, England where she loves to pretend she's Jane Austen, or at least a character in a Jane Austen novel. When she's not writing, she's hiking, skiing, traveling or sipping wine. She's appeared on the front page of the New York Times (when her book, Speed Dating launched Harlequin's NASCAR series), has been a clue in a crossword puzzle (National Post, Canada) and she's been a finalist for the RITA award three times, honored by Romantic Times Magazine and often shares her love of writing in her popular workshops.
MY THOUGHTS -
Ha! These books are funtastic! I am loving this series. I love that Nancy has chosen to keep it clean... but please! Can Lucy just get something on with one of them??? Its killing me! I don't even care which one - I love them both! If you are a fan of the TV series Heaven - its like the difference between Nathan and Duke. Personally I was a Duke girl but my daughter was totally Nathan LOL she's such a goody goody.
Love the characters, love the Knitting shop (remember, I'm a knitter and love all things yarn). I didn't care for the "mystery" in this one as much as the first one but that didn't take away from all the fun of this fantastic series! Can't wait to read the next -
Crochet and Cauldrons
. PS&BTW - I also crochet! ;-)
Added bonus - I just love the covers!
<3 <3
Thanks to the author and publisher for getting an e-copy of this book to me for a review!
Order yours from Amazon -

HERE