The Princess of Baker Street
by Mia Kerick
Published by: Harmony Ink Press
Publication date: January 22nd 2019
Genres: Contemporary, LGBTQ+, Young Adult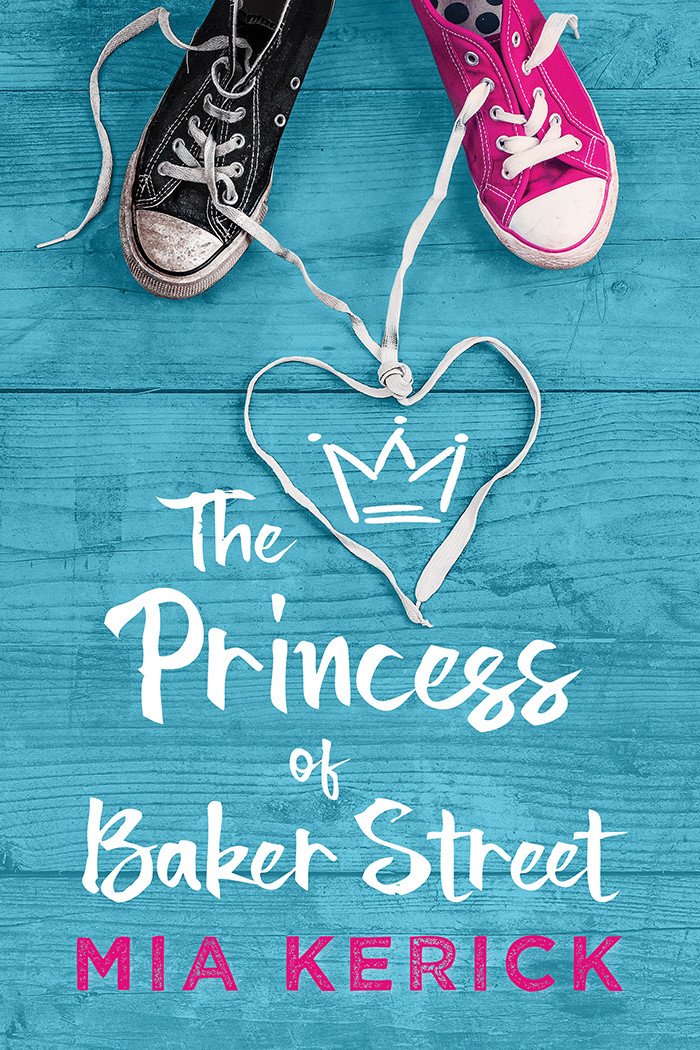 ABOUT THE BOOK -
"Always wear your imaginary crown" is Joey Kinkaid's motto. For years, Joey, assigned male at birth, led the Baker Street kids in daring and imaginative fantasy adventures, but now that they're teenagers, being a princess is no longer quite so cool. Especially for a child who is seen by the world as a boy.
Eric Sinclair has always been Joey's best friend and admirer—Prince Eric to Joey's Princess Ariel—but middle school puts major distance between them. As Eric's own life takes a dangerous turn for the worse, he stands by and watches as Joey—who persists in dressing and acting too much like a Disney princess for anybody's comfort—gets bullied. Eric doesn't like turning his back on Joey, but he's learned that the secret to teenage survival, especially with and absent mother, is to fly under the radar.
But when Joey finally accepts who she is and comes to school wearing lip gloss, leggings, and a silky pink scarf, the bullies make her life such a misery that she decides to end it all. Eric, in turn, must decide who he really is and what side he wants to stand on… though no matter what he chooses, the consequences with be profound for both teens, and they'll face them for years to come.
Is there a chance the two teens can be friends again, and maybe even more?
ABOUT THE AUTHOR -
Mia Kerick is the mother of four exceptional children—one in law school, another a professional dancer, a third studying at Mia's alma mater, Boston College, and her lone son, heading off to college. (Yes, the nest is finally empty.) She has published more than twenty books of LGBTQ romance when not editing National Honor Society essays, offering opinions on college and law school applications, helping to create dance bios, and reviewing scholarship essays. Her husband of twenty-five years has been told by many that he has the patience of Job, but don't ask Mia about this, as it's a sensitive subject.
Mia Kerick is a social liberal and cheers for each and every victory made in the name of human rights. Her only major regret: never having taken typing or computer class in school, destining her to a life consumed with two-fingered pecking and constant prayer to the Gods of Technology. Contact Mia at
miakerick@gmail.com
or visit at
www.miakerickya.com
to see what is going on in Mia's world.
MY THOUGHTS -
What a fantastic story. Heartwarming, sad, and brave! I have never read a Mia Kerick book before, but kudos to her for being such a brave edgy writer! This left me definitely wanting to read more.
A great group of characters! They were all very real. Joey, a girl trapped inside a boys body wanting desperately to be who she truly is. I think the author captured Joey's feelings and true self perfectly. The suffering under the hands of bullies was heartbreaking but again so real! Even the bullies characters were great (and by that, I mean they felt real). I loved Eric. He was my favorite character. People are always concerned with the main person involved. Few people ever think how it affects the family and friends. While Eric ignored Joey and sometimes even went along with the taunting for years, on the inside, he was conflicted. He was struggling with his feelings for Joey as a friend... or more. There was also Eric's shockingly sad poverty stricken home life! This part of the book was even more amazing to me that the other.
I love how everything came around in the end. Great ending! And I love that you get two stories in one!
A great heart breaking/heart lifting story by a great writer! A must read!
- Thank You!!
Order your copy from amazon -

HERE
a Rafflecopter giveaway